September 2020 GPS Career Story: Education and Equity Champion Joins Bill & Melinda Gates Foundation
September 9, 2020
Graduate and Postdoctoral Success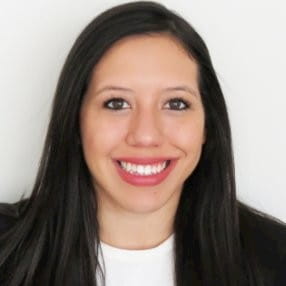 You've got ~ a minute or 350 words to give us your elevator pitch. Who are you? What are you all about?
My name is Sara Garcia, I was born and raised in Texas, and I have a passion for issues of race and equity and the role of public policy in creating a more equitable education system. Currently, I am a Program Officer with the Bill & Melinda Gates Foundation. I help to execute and manage grant funding for organizations that are working to produce public goods on how policymakers can make the education system in the United States more equitable. Essentially, I help to provide the funding to organizations so they can develop policy solutions to some of today's most pressing educational policy issues.
I cut my teeth in public policy working on higher education issues for a think tank in Washington D.C. called the Center for American Progress (CAP). While there, I focused on issues of equity and access for students of color in higher ed. I wrote reports outlining current policy problems and detailing potential solutions. I would then take those recommendations to Capitol Hill and advocate to congressional staffers on ways they could turn those proposed policy solutions into law.
While at CAP I also dabbled in labor policy as the president of our employee's union and negotiated a labor contract with our organizational leadership. My primary mission as a union president was to hold the organization accountable to its progressive values and fight on behalf of our staff for better pay, benefits, and protections. This experience was by far the most challenging and rewarding role I've had in DC.
In sum, despite what I've done in my career thus far, I still don't know what I want to be when I grow up. But I do know that I enjoy roles where I can fight for and be a steward for change, and I hope to have the opportunities to continue that work going forward.
How did you decide where you wanted to go after finishing graduate school? How many days or months between completing your studies and starting your job?
I got my MS degree from UTSA in Experimental Psychology. When I started out in the program, I wanted to pursue a career in psych, which was my dream and what I thought I would do for the rest of my life. However, during my second year, I got the opportunity to participate in the teaching assistant (TA) program and my experience with that program got me a little more interested in policy issues. So, I decided to do a shift and try my hand at public policy. All that I had known up to that point was academia, so naturally I assumed that the only way to do a career shift was to continue in my education and pursue a PhD. I then applied to and was accepted into the PhD program in education policy at the University of Illinois at Urbana-Champaign. I had a great advisor and I really loved the coursework, but it still didn't feel like what I was looking for, I wanted more on the ground experience.
After hearing me talk about the experience I was hoping to gain, a friend talked to me about the Congressional Hispanic Caucus Institute (CHCI) graduate fellowship program and encouraged me to apply. The CHCI fellowship program takes applicants from across the country and helps place them in congressional offices, government agencies, think tanks, etc., similar to an internship program. After learning more about CHCI, the program, and opportunities it provides, I decided to take one year of leave from my PhD program and apply for a graduate fellowship position. I was accepted into CHCI and secured a position as a graduate fellow in Senator Patty Murray's office on the Health, Education, Labor and Pensions (HELP) committee. I absolutely loved the work and the environment, so after a few months working in the Senate, I wrote to my advisor and officially withdrew from the PhD program. I never in a million years thought I would leave a PhD program, but I realized that I was learning a lot in my fellowship and there were opportunities for me to do more policy and advocacy work in DC. After my fellowship ended, I began working for The Education Trust, another think-tank and advocacy organization in the city, and from there I went onto the Center for American Progress (CAP), and from CAP came to the Bill & Melinda Gates Foundation.
Every job shift I've made to this point has been the result of hearing about another opportunity in an organization that excites me or I'm curious to learn more about. I never actively looked to leave a current role or program, but if an opportunity caught my eye, I decided to pursue it in the hopes it would provide me more experience, or help round out my skillset in a way I wouldn't be able to in my current role. This approach has helped me to gain a diverse array of experiences in DC and has helped me to really solidify the kind of work I am passionate about.
What was the best piece of advice that someone ever gave to you?
"Career paths aren't always linear, and you never have to stick to just one, you build a career by seizing opportunities that excite you." My path into public policy was far from linear or traditional. Everyone's career path is different and there is no one magic formula for how to build a successful career. The skills you learn in graduate school can be applicable to so many different work opportunities, so don't feel like you're pigeonholed into doing a certain type of work. The statistics and writing skills I learned through my graduate program at UTSA were critical to my work on Capitol Hill and in the think tanks I worked for. Never be afraid to make a career shift because the skills you have are applicable across so many spheres of work.
Imposter syndrome? Yes, no, or ongoing?
Everyday! This is something that never truly goes away but can be better managed with time. It's so easy to think that others have it all figured out or know so much more, but in my experience even folks in senior positions are figuring it out as they go. It's okay to ask questions and it's even more important to feel secure admitting that you may not know the best answer or approach to a problem, because chance are, you're not the only one. Additionally, if you have a thought or idea and you feel a strong sense of fear saying it aloud, that's when it's most important to speak up. You never know how your voice or perspective can change the direction of a conversation or sway opinion for the better.
Sara Garcia presented her GPS Career Story on Wednesday September 16, 2020 at 3:00 pm. Although you missed the opportunity to ask her questions, you can still watch her Career Story at the Graduate School's YouTube Channel. To find out when the next Career Story will be held, check our calendar.